About Me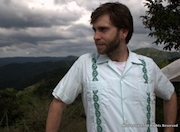 I grew up near the ocean in southern Maine. After high school, I studied Computer Science at Rensselaer Polytechnic Institute for a brief stint. I dropped out and spent the next ten years in a variety of network engineering and software development jobs. Most of my technical skills are self-taught. In 2004, I decided to go back to school and worked part-time as a network administrator for the Society for Organizational Learning while finishing a BA in Urban Planning at Umass Boston.
While at Umass Boston, I developed skills in media production and began teaching workshops at Cambridge Community Television and the Boston Neighborhood Network. After graduating, I began working at the Media Arts Studio in Cambridge, MA.
I enjoy how the media that influence society are similarly influenced by society(us) and I'm excited to be a part of it. I wonder how media education can become more integrated in different learning settings. I have won several awards for my video production, teaching and program development. I'm hoping to work with youth and adult populations teaching and producing media.
I have been recognized by Umass Boston, CCTV, SCAT and Harvard for my leadership and dedication to community based media production and education:
▪ Treasurer on the Board of Directors – Somerville Community Access Television, 2009-2011
▪ Instructor of the Year – CCTV, 2009.
▪ Student Government Vice-President – Harvard Graduate School of Education, 2008/2009
▪ Student Leadership Award – UMass Boston, 2005 and 2006
▪ Nominated for Dean award – Umass Boston, 2006
▪ Student Government Representative, Committee Chair– UMass Boston, 2004 - 2006
▪ Rudy Award (exceptional involvement in CCTV) – CCTV, 2004
▪ Intern of the Year – CCTV, 2003
▪ Member Advisory Committee – CCTV, 2002 and 2003
Also:
Thoughts on Technology, Media and Education - blog - Media, Technology and Action
Photos, Recipes and Fun - Frogmatter in the World
Download my Resume (PDF) - download acrobat reader
I spend most of my time at the Media Arts Studio - 454 Broadway in Cambridge, MA.
You can view many of my video projects on my bip.tv page or my vimeo page
You can view many of my audio projects on my soundcloud page

Follow me on Twitter - @Frogmatter