Anomalous Press
The first, brilliant, inaugural issue of what will be a quarterly multi-modal digital journal. The writing is funny, and strange, and challenging, and unsettling. You can listen to each author read each piece. You can download the whole issue in multiple formats in exchange for tweeting or posting to your Facebook profile. I am the technical consultant and web developer. Below is the animation promo I created.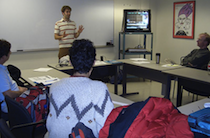 I am currently the Emerging Technology and New Media Instructor at Cambridge Rindge and Latin High School and the Production Coordinator for Cambridge Educational Access. During the school day, I support technology and media projects in classes, develop professional development and workshops for teachers, and research new technologies for the district. I also develop and teach honors classes in media production for high school students.
After school, I coordinate media production programs that produce video and audio programming for channel 98 and the Media Arts Studio website. We employ 15-20 high school students, advise several clubs and manage an ongoing rotation of college interns and visiting artists.
I have been producing, teaching and working with digital media for several years. My main interests are; ensuring that media and technology have a significant place in the core of public education, instructional technology, supporting youth media production, and developing collaborative pedagogy using digital media tools. I have a BA in Community Planning from UMass Boston and an Ed.M in Technology, Innovation an Education from Harvard University.
I am available for freelance media production, web development and technology consulting for education and small business clients.
Recent Projects

A digital journal. I am the technical consultant and web developer. Website built with a clean CSS design and original multi-media.

I am the media consultant, and I am creating a short documentary about the project. View the Promo

A High School Honors Media class that I developed and am currently teaching. View the Moodle Page. View the Course Wiki
Trainings & Workshops
Recent Blog Entries